6pcs Ignition Coil on Plug Coils Pack for Cadillac STS CTS SRX 3.6L 2.8L UF375
| | |
| --- | --- |
| Brand/Part #: | AUTOSAVER88 O01-K035_xS1s |
| Location: | Guangzhou, CN |
| Ship To Locations: | US - FREE SHIPPING |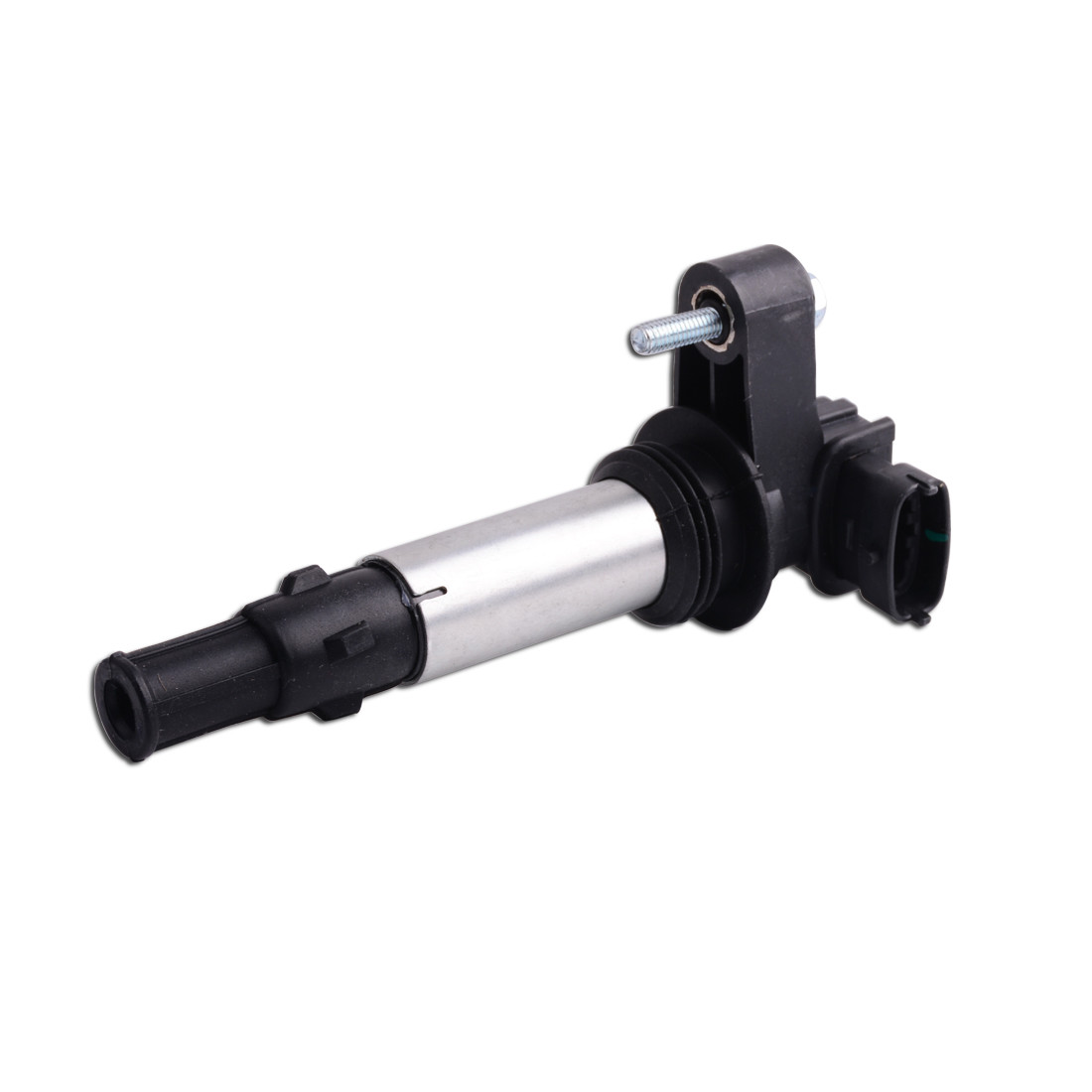 Replaces part number:

C1508, 12613057, D501C, D510A, 5C1551, E405, 52-1816, IC505,

12583514, 12613051, 12613057, 12629037, UF-375




Features:

Designed to deliver trouble-free, consistent performance

Improved coil efficiency reduces the need to generate high voltage,right for your vehicle and lifestyle

Excellent mechanical stability and corrosion protection

Lower fuel consumption and reduced exhaust emissions for your vehicle

Manufactured to meet or exceed strict quality requirements




Package: 6pcs C1508 Ignition Coils for Cadillac Buick GMC


Fit for :

Buick Allure 2005-2008 3.6L
Buick Enclave 2009 3.6L
Buick LaCrosse 2005-2008 3.6L
Buick Rendezvous 2004-2006 3.6L
Cadillac CTS 2004-2009 3.6L

(NOT f

it for 2008 Cadillac CTS Base 3.6 V6 RWD

)


Cadillac CTS 2005-2007 2.8L
Cadillac SRX 2004-2006 3.6L
Cadillac STS 2005-2008 3.6L
Chevrolet Traverse 2009 3.6L
Chevrolet Vectra 2008 2.8L
GMC Acadia 2009 3.6L
Saab 9-3 2006-2009 2.8L


Saturn Outlook 2009 3.6L




Failure Judgment:

A. If the Engine Failed with the Ignition System, Such as Inability to Start Up, Lack of Strength for Fail, etc. The Ignition Coil Should be Checked.

B. Eliminate Failures of the Spark Plug, Distributor, and High-voltage Line.

C. If the Ignition Coil is not Damaged in Appearance, Measure the Primary and Secondary Resistance of the Ignition Coil, If it Exceeds the Rated Range, the Ignition Coil Should be Judged as Disable.



Returns Accepted: Returns Accepted
Item must be returned within: 30 Days
Refund will be given as: Money back or replacement (buyer's choice)
Return shipping will be paid by: Buyer
Fitment Type: Direct Replacement
Warranty: 3 Year
Surface Finish: Black
Other Part Number: 12583514 12613051 12613057 12629037 12566569 C1508
Manufacturer Part Number: S08O01035
Brand: AUTOSAVER88
Placement on Vehicle: Front
Color: Black
Type: Eliminate misfire coils
Material: Heavy Duty Plastic
UPC: 800000067733
SKU: O01-K035_xS1s
6pcs Ignition Coil on Plug Coils Pack for Cadillac STS CTS SRX 3.6L 2.8L UF375 fits on the following vehicles. This is for your reference only, please check your auto manual to make sure it fits.
YEAR
MAKE
MODEL
TRIM
NOTES
2009
Cadillac
CTS
Base Sedan 4-Door 3.6L 3564CC 217Cu. In. V6 GAS DOHC Naturally Aspirated
2009
Cadillac
CTS
Luxury Sedan 4-Door 3.6L 3564CC 217Cu. In. V6 GAS DOHC Naturally Aspirated
2009
Cadillac
CTS
Premium Sedan 4-Door 3.6L 3564CC 217Cu. In. V6 GAS DOHC Naturally Aspirated
2009
Chevrolet
Traverse
LS Sport Utility 4-Door 3.6L 3564CC 217Cu. In. V6 GAS DOHC Naturally Aspirated
2009
Chevrolet
Traverse
LT Sport Utility 4-Door 3.6L 3564CC 217Cu. In. V6 GAS DOHC Naturally Aspirated
2009
Chevrolet
Traverse
LTZ Sport Utility 4-Door 3.6L 3564CC 217Cu. In. V6 GAS DOHC Naturally Aspirated
2009
GMC
Acadia
Base Sport Utility 4-Door 3.6L 3564CC 217Cu. In. V6 GAS DOHC Naturally Aspirated
2009
GMC
Acadia
SLE Sport Utility 4-Door 3.6L 3564CC 217Cu. In. V6 GAS DOHC Naturally Aspirated
2009
GMC
Acadia
SLT Sport Utility 4-Door 3.6L 3564CC 217Cu. In. V6 GAS DOHC Naturally Aspirated
2009
Saab
9-3
Aero Convertible 2-Door 2.8L 2792CC 170Cu. In. V6 GAS DOHC Turbocharged
2009
Saab
9-3
Aero Sport Sedan 4-Door 2.8L 2792CC 170Cu. In. V6 GAS DOHC Turbocharged
2009
Saab
9-3
Aero XWD Sedan 4-Door 2.8L 2792CC 170Cu. In. V6 GAS DOHC Turbocharged
2009
Saab
9-3
Aero XWD Wagon 4-Door 2.8L 2792CC 170Cu. In. V6 GAS DOHC Turbocharged
2009
Saturn
Outlook
XE Sport Utility 4-Door 3.6L 3564CC 217Cu. In. V6 GAS DOHC Naturally Aspirated
2009
Saturn
Outlook
XR Sport Utility 4-Door 3.6L 3564CC 217Cu. In. V6 GAS DOHC Naturally Aspirated
2008
Buick
Allure
CXS Sedan 4-Door 3.6L 3564CC 217Cu. In. V6 GAS DOHC Naturally Aspirated
2008
Buick
LaCrosse
CXS Sedan 4-Door 3.6L 3564CC 217Cu. In. V6 GAS DOHC Naturally Aspirated
2008
Cadillac
STS
Base Sedan 4-Door 3.6L 3564CC 217Cu. In. V6 GAS DOHC Naturally Aspirated
2008
Cadillac
STS
Platinum Sedan 4-Door 3.6L 3564CC 217Cu. In. V6 GAS DOHC Naturally Aspirated
2008
Chevrolet
Vectra
Base Sedan 4-Door 2.8L 2792CC 170Cu. In. V6 GAS DOHC Turbocharged
2008
Saab
9-3
Aero Convertible 2-Door 2.8L 2792CC 170Cu. In. V6 GAS DOHC Turbocharged
2008
Saab
9-3
Aero Sedan 4-Door 2.8L 2792CC 170Cu. In. V6 GAS DOHC Turbocharged
2008
Saab
9-3
Aero Wagon 4-Door 2.8L 2792CC 170Cu. In. V6 GAS DOHC Turbocharged
2008
Saab
9-3
Aero XWD Sedan 4-Door 2.8L 2792CC 170Cu. In. V6 GAS DOHC Turbocharged
2008
Saab
9-3
Aero XWD Wagon 4-Door 2.8L 2792CC 170Cu. In. V6 GAS DOHC Turbocharged
2008
Saab
9-3
Turbo X Sedan 4-Door 2.8L 2792CC 170Cu. In. V6 GAS DOHC Turbocharged
2008
Saab
9-3
Turbo X Wagon 4-Door 2.8L 2792CC 170Cu. In. V6 GAS DOHC Turbocharged
2007
Buick
Allure
CXS Sedan 4-Door 3.6L 3564CC 217Cu. In. V6 GAS DOHC Naturally Aspirated
2007
Buick
LaCrosse
CXS Sedan 4-Door 3.6L 3564CC 217Cu. In. V6 GAS DOHC Naturally Aspirated
2007
Cadillac
CTS
Base Sedan 4-Door 2.8L 2792CC 170Cu. In. V6 GAS DOHC Naturally Aspirated
2007
Cadillac
CTS
Base Sedan 4-Door 3.6L 3564CC 217Cu. In. V6 GAS DOHC Naturally Aspirated
2007
Cadillac
STS
Base Sedan 4-Door 3.6L 3564CC 217Cu. In. V6 GAS DOHC Naturally Aspirated
2007
Saab
9-3
Aero Convertible 2-Door 2.8L 2792CC 170Cu. In. V6 GAS DOHC Turbocharged
2007
Saab
9-3
Aero Sedan 4-Door 2.8L 2792CC 170Cu. In. V6 GAS DOHC Turbocharged
2007
Saab
9-3
Aero Wagon 4-Door 2.8L 2792CC 170Cu. In. V6 GAS DOHC Turbocharged
2006
Buick
Allure
CXS Sedan 4-Door 3.6L 3564CC 217Cu. In. V6 GAS DOHC Naturally Aspirated
2006
Buick
LaCrosse
CXS Sedan 4-Door 3.6L 3564CC 217Cu. In. V6 GAS DOHC Naturally Aspirated
2006
Buick
Rendezvous
CX Sport Utility 4-Door 3.6L 3564CC 217Cu. In. V6 GAS DOHC Naturally Aspirated
2006
Buick
Rendezvous
CXL Sport Utility 4-Door 3.6L 3564CC 217Cu. In. V6 GAS DOHC Naturally Aspirated
2006
Cadillac
CTS
Base Sedan 4-Door 2.8L 2792CC 170Cu. In. V6 GAS DOHC Naturally Aspirated
2006
Cadillac
CTS
Base Sedan 4-Door 3.6L 3564CC 217Cu. In. V6 GAS DOHC Naturally Aspirated
2006
Cadillac
SRX
Base Sport Utility 4-Door 3.6L 3564CC 217Cu. In. V6 GAS DOHC Naturally Aspirated
2006
Cadillac
SRX
Confort Sport Utility 4-Door 3.6L 3564CC 217Cu. In. V6 GAS DOHC Naturally Aspirated
2006
Cadillac
SRX
Elegance Sport Utility 4-Door 3.6L 3564CC 217Cu. In. V6 GAS DOHC Naturally Aspirated
2006
Cadillac
STS
Base Sedan 4-Door 3.6L 3564CC 217Cu. In. V6 GAS DOHC Naturally Aspirated
2006
Saab
9-3
Aero Convertible 2-Door 2.8L 2792CC 170Cu. In. V6 GAS DOHC Turbocharged
2006
Saab
9-3
Aero Sedan 4-Door 2.8L 2792CC 170Cu. In. V6 GAS DOHC Turbocharged
2006
Saab
9-3
Aero Wagon 4-Door 2.8L 2792CC 170Cu. In. V6 GAS DOHC Turbocharged
2005
Buick
Allure
CXS Sedan 4-Door 3.6L 3564CC 217Cu. In. V6 GAS DOHC Naturally Aspirated
2005
Buick
LaCrosse
CXS Sedan 4-Door 3.6L 3564CC 217Cu. In. V6 GAS DOHC Naturally Aspirated
2005
Buick
Rendezvous
CXL Plus Sport Utility 4-Door 3.6L 3564CC 217Cu. In. V6 GAS DOHC Naturally Aspirated
2005
Buick
Rendezvous
Ultra Sport Utility 4-Door 3.6L 3564CC 217Cu. In. V6 GAS DOHC Naturally Aspirated
2005
Cadillac
CTS
Base Sedan 4-Door 2.8L 2792CC 170Cu. In. V6 GAS DOHC Naturally Aspirated
2005
Cadillac
CTS
Base Sedan 4-Door 3.6L 3564CC 217Cu. In. V6 GAS DOHC Naturally Aspirated
2005
Cadillac
SRX
Base Sport Utility 4-Door 3.6L 3564CC 217Cu. In. V6 GAS DOHC Naturally Aspirated
2005
Cadillac
SRX
Confort Sport Utility 4-Door 3.6L 3564CC 217Cu. In. V6 GAS DOHC Naturally Aspirated
2005
Cadillac
SRX
Elegance Sport Utility 4-Door 3.6L 3564CC 217Cu. In. V6 GAS DOHC Naturally Aspirated
2005
Cadillac
STS
Base Sedan 4-Door 3.6L 3564CC 217Cu. In. V6 GAS DOHC Naturally Aspirated
2004
Buick
Rendezvous
CXL Sport Utility 4-Door 3.6L 3564CC 217Cu. In. V6 GAS DOHC Naturally Aspirated
2004
Buick
Rendezvous
Ultra Sport Utility 4-Door 3.6L 3564CC 217Cu. In. V6 GAS DOHC Naturally Aspirated
2004
Cadillac
CTS
Base Sedan 4-Door 3.6L 3564CC 217Cu. In. V6 GAS DOHC Naturally Aspirated
2004
Cadillac
SRX
Base Sport Utility 4-Door 3.6L 3564CC 217Cu. In. V6 GAS DOHC Naturally Aspirated
2004
Cadillac
SRX
Confort Sport Utility 4-Door 3.6L 3564CC 217Cu. In. V6 GAS DOHC Naturally Aspirated
2004
Cadillac
SRX
Elegance Sport Utility 4-Door 3.6L 3564CC 217Cu. In. V6 GAS DOHC Naturally Aspirated